Regular price
Sale price
$12.00 USD
Unit price
per
Sale
Sold out
Only 7 ingredients. No plastic bottles. Pre measured. No mess. Recyclable Packaging. 
Laundry sheets work with all types of washers, including high-efficiency machines. 1 pack of 30 sheets can do up to 60 medium size loads. Heavily soiled clothes may require 2 sheets. 
100% Biodegradable - Sugar Cane PVA (No Microplastics) - Septic Safe
Ingredients

Ethoxylate, Sodium Dodecyl Sulfate, Sugar Cane PVA, Polyethylene Glycol, Deionized Water, Cornstarch, Fragrance from Lavender Essential Oil
How To Use

Place laundry sheet inside the drum with clothes.

1/2 Sheet | Small/Medium Load (1/2 full drum)

1 Sheet | Large Load (3/4 full drum)

2 Sheets | Xtra Large/Heavily Soiled (1 full drum)

Pairs well with our Power Boost non bleach whitener.
Share
View full details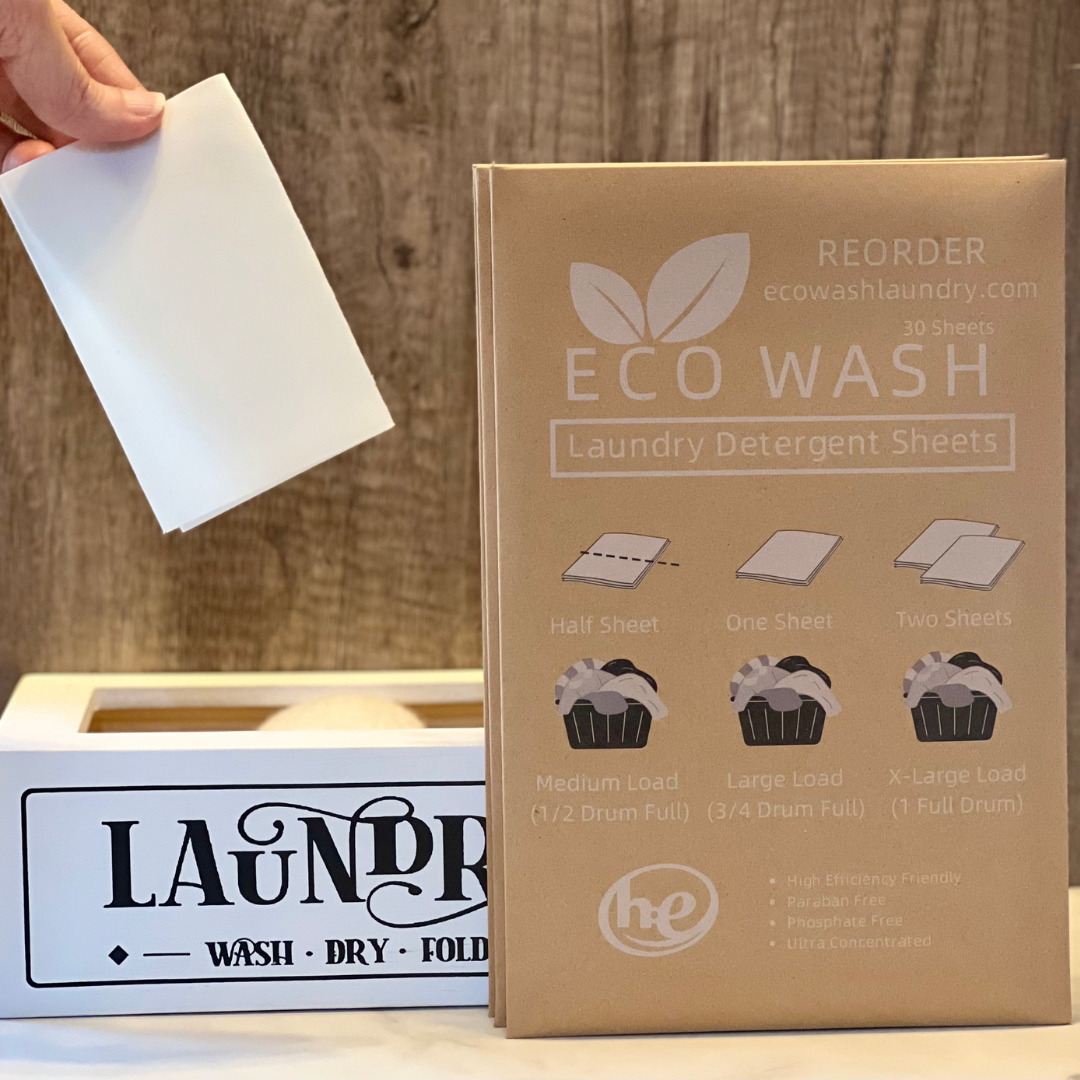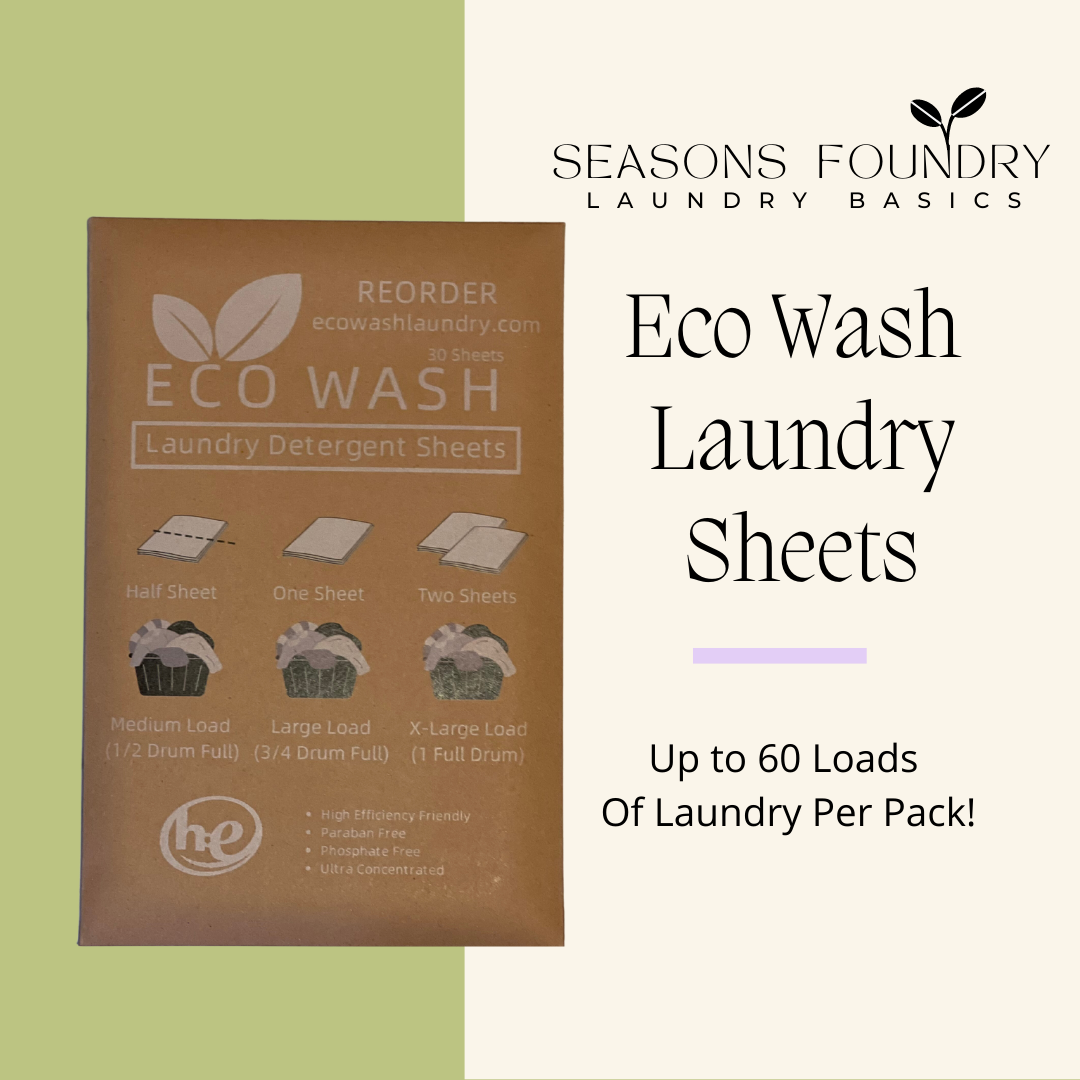 Easy & Eco-friendly
The convenience of these sheets plus their eco-friendly nature makes them a must-have in my laundry room.
No More Heavy Bottles
These laundry sheets are revolutionary! So much easier to use and store than jugs of detergent.
Unquestionably Sustainable, Remarkably Effective
I am genuinely thrilled to share my experience with the Eco Wash Biodegradable Sheets from Seasons Foundry. Not only has this product effectively revolutionized my laundry routine, but it has also done so in the most eco-conscious manner.
First off, I was thoroughly impressed by the sustainable aspect of these sheets. In a world that's becoming increasingly environmentally-aware, Seasons Foundry has shown an admirable commitment to this cause. The fact that these sheets are biodegradable puts my mind at ease, knowing that my choice of laundry product is not contributing to landfills. Each wash is a reminder that sustainability can be seamlessly intertwined with our daily chores.
Beyond just the environmental impact, the performance of these sheets is truly top-notch. The Eco Wash sheets are incredibly user-friendly. The convenience of not measuring liquid detergent is a breath of fresh air in my otherwise busy schedule. Moreover, my clothes have never felt better. There's a noticeable softness and freshness that lingers, transforming the mundane task of laundry into something I now look forward to.
The cleaning power of these sheets is remarkable. They have effectively tackled a wide range of stains, from the everyday to the more stubborn ones. My whites are whiter, my colors are brighter, and all without the harsh chemicals found in traditional detergents.
Additionally, the packaging of the product, presumably in line with Seasons Foundry's eco-ethos, is minimalistic and entirely recyclable. Every aspect of this product, from the sheets themselves to the packaging, reflects a conscientious effort towards sustainability.
In conclusion, Eco Wash Biodegradable Sheets from Seasons Foundry have exceeded all my expectations. They are sustainable, efficient, and have made my clothes feel fantastic. They embody a perfect blend of convenience and eco-consciousness. To anyone looking to make their laundry routine greener without compromising on quality, this product is a must-try!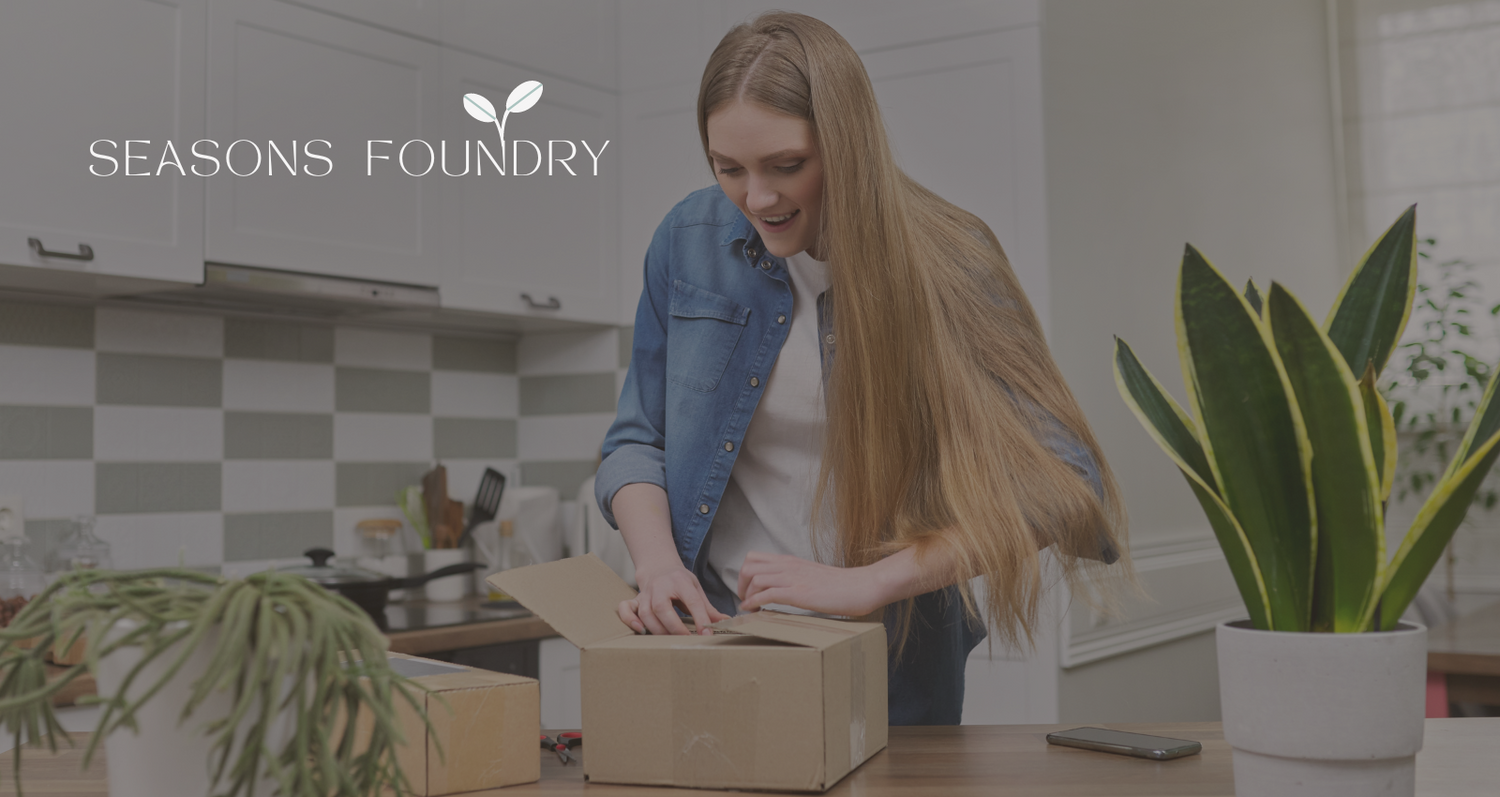 News & Updates
Follow us updates and exciting product releases! You can find Seasons Foundry on Facebook & Instagram.
30 Day Guarantee

If you are unhappy with your product, simply message hello@seasonsfoundry.com to start the return process.